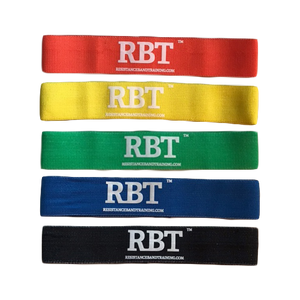 Dimensions of Band:
Width – All bands are 2 inches wide
Thickness – All bands are 1 mm thick 
Length – All bands are 13 inches in length
Stretch Length – All bands stretch 36 inches


Color/Resistance:
Orange – Super Light
Yellow – Light
Green – Medium
Blue – Strong
Black – Heavy

---
The 13″ RBT Hip Band is a combination fabric and latex constructed RBT Hip Band designed to help activate key muscles of the hips while performing the following functional exercises:
Lateral Walks

Side Shuffles

Monster Walks

Step-overs

Various Hopping Drills

Squatting

Skaters

Step Matrix

Crawling Variations

Jumping Jack Variations

Various Calisthenic Movement

Several Small Space Cardio Exercises
Designed to be placed around the thighs, just above the kneecaps, the RBT Hip Band's durable comfortable fabric design is guaranteed to not roll up, migrate or tear like thin inexpensive molded mini-bands. Also unlike the super 3 – 4" wide high resistance fabric bands that only allows you to train slow walking or squatting movements , the 2' wide RBT Hip Band provides you the optimal resistance to perform slow activation movements and fast explosive athletic movements.  
Plus you can easily create  small space interval cardio based workouts anywhere.