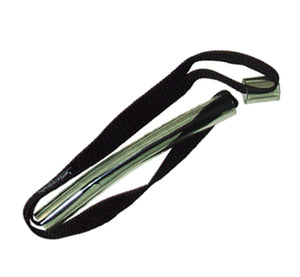 Door Anchor Utility Strap allows you to do Attached Band Training ANYWHERE!
---
Product Dimensions:
Band Attachment Area – 1 inch x 10 inch plastic cylinder band attachment surface.

Door Anchor Segment – 2 inch plastic cylinder which is designed to be placed into a door jamb or to lock the utility strap down when looped around a secure structure.

Nylon Strapping – 1 inch heavy duty nylon strapping that is professionally sown using double stitching to ensure maximum strength and durability.

Total length of Anchor Strap – 50 inches



Recommended Training Use:
The Door Anchor Utility Strap allows users to using Attached Band Training almost anywhere. The 50″ long heavy duty 1 inch nylon strap easily wraps around and locks onto a…
Basketball Pole
Tennis Net Pole
Small Tree
Picnic Tables
Garage Pipe

…or into the hinged side of a door jam.