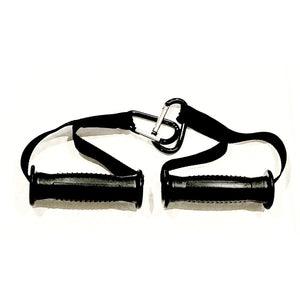 Enhance Upper Body Strength with RBT "Grip Friendly" Training Handles
---
Package Includes:
1 Pair "Grip Friendly" Training Handles



Product Dimensions:
Handle Grip Width – 6 Inches Wide (Fits small and large hands)
Handle Carabiner – 1 1/4 Inch wide with a 300 Lb tensile strength
Nylon Strap – 1 Inch heavy duty nylon strapping that is professional sewn using double stitching to ensure maximum safety and durability
Recommended Training Use:

RBT training handles are design to be used with orange, red, black and purple level bands. The handle design and connection to the band allows you to easily transition in and out of any horizontal based band exercise without having to re-grip.

Training handles allow users to activate the shoulder joint stabilizing muscles by providing the hand with a firm contoured structure to squeeze. This squeezing action on the handle automatically activates muscles in the shoulder to stabilize which increases primary working muscle recruitment and strength.

Having a "grip friendly" contoured handle, that fits how the hand grips, makes the action of gripping even stronger.